Model 858-C
Heavy-Duty Compressor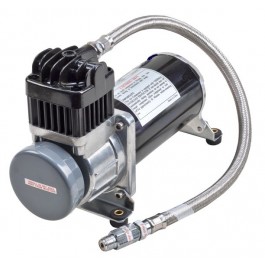 Availability: In stock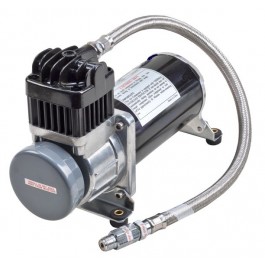 Additional Information
Installation Details
Specificationstab

12-Volt heavy-duty compressor
Current: 21 amps at peak
CFM: 2.55
In-line fuse holder with 25 amp fuse provided
Permanent magnetic motor that is gearless with thermo protection
Oil-less maintenance free design
High performance piston ring
Moisture & dust resistant
Painted aluminum alloy cylinder
Mounting base has rubber vibration bushings
Stainless steel braided hose with in-line check valve
Washable air filter
Size: L 10-1/4 in. x W 3-1/2 in. x H 6-1/2 in.

Replacement Parts
No
Sound Options
No
Videos_tab1
No
Model 858-C is a replacement compressor that is designed for applications that require filling large volume air tanks, up to 2.5-gallons. The tank recovery time is shorter because of the high volume the pump produces, 2.55 CFM. The compressor is equipped with an extra long stainless steel feeder hose that allows for easier installation. The pump's cylinder and head have been designed with cooling fins that allows the compressor to have a 33% @ 100-psi duty cycle that. The compressor's heavy-duty 12-volt motor is balanced to precision and there is heavy rubber bushing mounted into the base virtually eliminating all vibration. JET STREAM will provide a reliable, cost-effective solution when heavy-duty compressor is needed. The compressor comes complete with all mounting hardware, stainless steel with check valve and installation instructions in English / Spanish.
12-Volt heavy-duty compressor
Current: 21 amps at peak
CFM: 2.55
In-line fuse holder with 25 amp fuse provided
Permanent magnetic motor that is gearless with thermo protection
Oil-less maintenance free design
High performance piston ring
Moisture & dust resistant
Painted aluminum alloy cylinder
Mounting base has rubber vibration bushings
Stainless steel braided hose with in-line check valve
Washable air filter
Size: L 10-1/4 in. x W 3-1/2 in. x H 6-1/2 in.